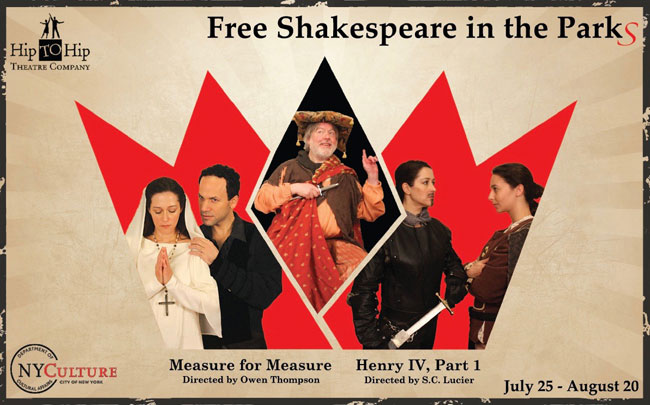 Hip to Hip is proud to announce its 2017 season of Free Shakespeare in the Parks!
Henry IV, Part 1: The Prince and the Rebel and Measure for Measure will tour in repertory to 12 parks throughout all five boroughs of New York City, Jersey City and Southampton. Mark your calendars: July 25th to August 20th.
From taverns to palaces, these plays invite us into the personal trials and triumphs of the common people and their all-too-human leaders. Our 11th season features madcap capers and epic battles, mistaken identities and unexpected marriages, courtly diplomacy and political sex scandals, and a vibrant cast of unforgettable characters, including the iconic Falstaff.
Henry IV, Part 1: The Prince and the Rebel
Prince Hal is caught between two worlds: in the tavern, he carouses with a wild bunch, led by the scoundrel Falstaff, but at court, the King presses him to shoulder his responsibilities as heir to the throne. Meanwhile, the rebellious Hotspur threatens to destroy the kingdom. Shakespeare's action-packed coming-of-age story asks "What makes a good leader?"
Measure for Measure
he Duke of Vienna's puritanical deputy Angelo, tasked with cleaning up a city out of control, revives ancient laws regarding sex and marriage. When he unjustly sentences the young gentleman Claudio to death, Claudio's sister Isabella pleads his case...and discovers that Angelo is not as virtuous as he seems. Shakespeare's dark comedy examines the danger of placing power in the wrong hands.
Kids & the Classics
This free interactive workshop is the companion piece to our program of Free Shakespeare in the Parks. It is offered 30 minutes before every performance, and it is designed for children ages 4 to 12. It gives children a chance to interact with the text by previewing the characters and situations, and creating links between the text and their own lives through theatre games and close reading of text.
---
Programming made possible in part with public funds from the New York City Department of Cultural Affairs in partnership with the City Council, including discretionary funding allocated by New York City Council Majority Leader Jimmy Van Bramer and Queens Borough President Melinda Katz.
Funding also provided by The Davee Foundation, The Josephine Foundation, The Anna-Maria & Stephen Kellen Foundation, The Hyde & Watson Foundation, Atlantic Philanthropies, The LeFrak Organization and Goldman Sachs Gives.