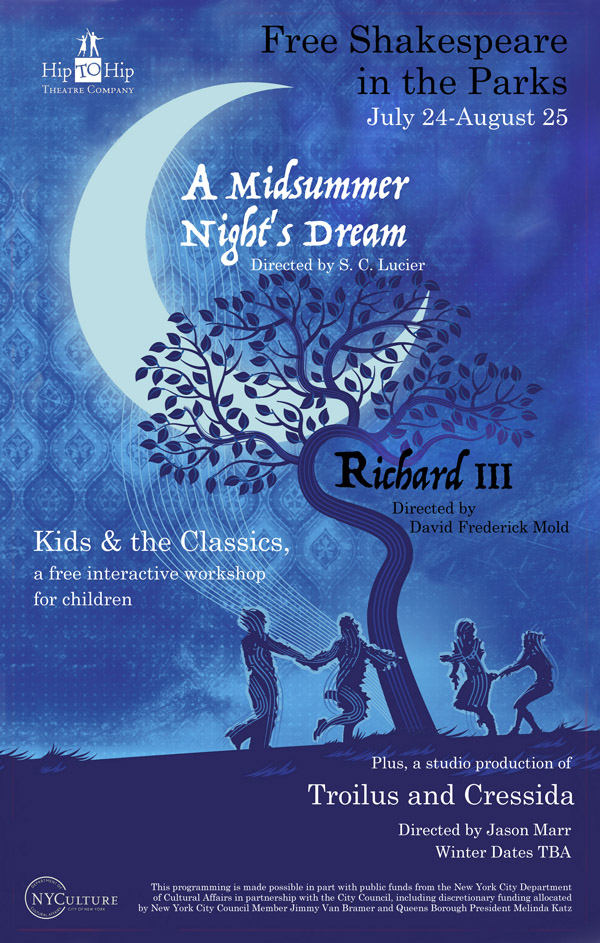 Hip to Hip's 2019 Season Features a Sublime Comedy, Two Historical Tragedies, and a Fun Workshop for Kids
Please join us as we celebrate our thirteenth year of presenting free and accessible professional classical theatre in NYC! First up will be our summer program of Free Shakespeare in the Parks: A Midsummer Night's Dream and Richard III, together with a pre-show workshop for kids, will tour in repertory to fourteen parks throughout New York City, from July 24th to August 25th (full schedule of performances coming soon). Second up will be some special winter programming: a studio production of Troilus and Cressida (venue and dates TBA).
A Midsummer Night's Dream
Four young lovers escape the tyranny of the court to find love in a magical forest. On the same night and in the same forest, the king and queen of the fairies declare war on each other and a company of amateur actors meet to rehearse a play. See what happens when a mischievous sprite called Puck weaves their three stories into one.
Richard III
After a long civil war, England enjoys a period of peace under King Edward. But Edward's younger brother Richard, who helped him to the throne, grows restless in the shadows. Shakespeare's searing drama chronicles the bloody rise and fall of the last English king to die on the battlefield.
Kids & the Classics
"Kids & the Classics" is the companion piece to Hip to Hip's program of "Free Shakespeare in the Parks." This free interactive workshop is offered 30 minutes before every performance, and is designed for children ages 4 to 12. It gives children a chance to interact with the text by previewing the characters and situations and creating links between the text and their own lives.
Troilus and Cressida
Seven years into the Trojan War, would-be lovers Troilus and Cressida pine for each other, encouraged by the hilarious Pandarus. Meanwhile, Paris, Hector and Achilles fight over the fate of Helen of Troy. A rare opportunity to see Shakespeare's funny, insightful and cynical take on the heroes of the Iliad.
---
Programming made possible in part with public funds from the New York City Department of Cultural Affairs in partnership with the City Council, including discretionary funding allocated by New York City Council Majority Leader Jimmy Van Bramer and Queens Borough President Melinda Katz.
Funding also provided by The Davee Foundation, The Josephine Foundation, The Anna-Maria & Stephen Kellen Foundation, The Hyde & Watson Foundation, Atlantic Philanthropies, The LeFrak Organization and Goldman Sachs Gives.