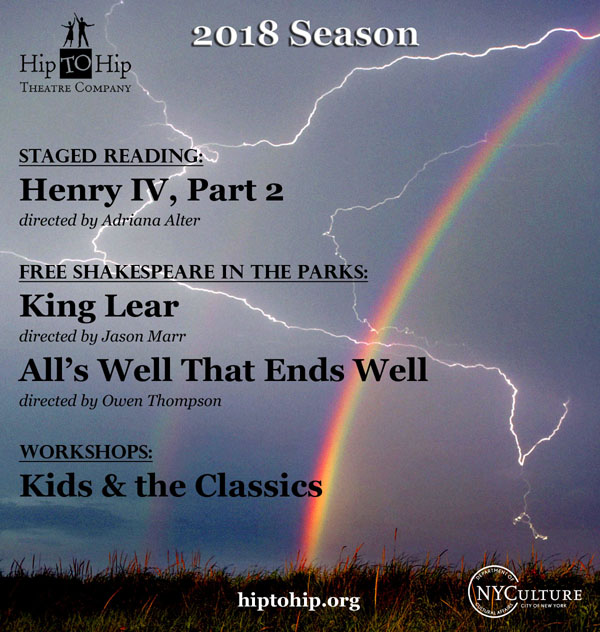 Hip to Hip's 2018 season has it all: historical saga, epic tragedy, and sparkling comedy!
Kicking off the season will be our first indoor offering: a free staged reading of Shakespeare's rarely produced Henry IV, Part 2, finishing what we started with last season's triumphant production of Part 1. Come see Shakespeare's action-packed and hilarious cavalcade of noble warriors, scheming rebels, and brawling tavern scoundrels, led by the iconic Sir John Falstaff! April 28, 2pm, at the Queens Museum and April 29, 7pm, at The Actors Company Theatre (TACT).
Next up will be our flagship program of Free Shakespeare in the Parks. From family betrayals to fairytale endings, from magical storms to miraculous potions, King Lear and All's Well That Ends Well delve into seduction, violence, and the courage it takes to be an outsider. Lear and All's Well will perform in rotating repertory from July 26 to August 26 at thirteen parks throughout New York City and its surrounds, and our popular children's workshop "Kids & the Classics" will be offered thirty minutes before each performance!
---
Programming made possible in part with public funds from the New York City Department of Cultural Affairs in partnership with the City Council, including discretionary funding allocated by New York City Council Majority Leader Jimmy Van Bramer and Queens Borough President Melinda Katz.
Funding also provided by The Davee Foundation, The Josephine Foundation, The Anna-Maria & Stephen Kellen Foundation, The Hyde & Watson Foundation, Atlantic Philanthropies, The LeFrak Organization and Goldman Sachs Gives.