City-wide tour of Free Shakespeare in the Parks
July 26 - August 26, 2018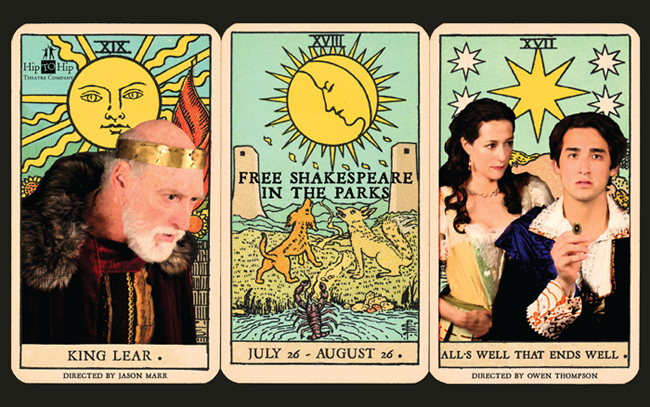 PERFORMANCE SCHEDULE
TUESDAY
WEDNESDAY
THURSDAY
FRIDAY
SATURDAY
SUNDAY
July 26
July 27
July 28
July 29

QUEENS

LeFrak City (59-17 Junction Blvd. Corona, NY )


Kids 6:30pm
KING LEAR 7pm

BROOKLYN

Fort Greene Park (Monument Steps)


Kids 7pm
ALLíS WELL 7:30pm

QUEENS

Sunnyside Gardens Park (48-21 39th Ave)


Kids 7pm
KING LEAR 7:30pm

STATEN ISLAND

Snug Harbor Cultural Center (1000 Richmond Terrace)


Kids 5:30pm
ALLíS WELL 6pm

July 31
August 1
August 2
August 3
August 4
August 5

Rain Date

JERSEY CITY

Newport On The Green (14th St & River Dr S.)


Kids 6:30pm
KING LEAR 7pm

QUEENS

Crocheron Park (35th Ave & Corbett Rd)


Kids 7pm
ALLíS WELL 7:30pm

BROOKLYN

Fort Greene Park (Monument Steps)


Kids 7pm
KING LEAR 7:30pm

QUEENS

Sunnyside Gardens Park (48-21 39th Ave)


Kids 7pm
ALLíS WELL 7:30pm

BRONX

Van Cortlandt Park (Broadway & 245th St)

Kids 5:30pm
KING LEAR 6pm

August 7
August 8
August 9
August 10
August 11
August 12

Rain Date

QUEENS

Flushing Meadows (at the Unisphere)


Kids 7pm
ALLíS WELL 7:30pm

QUEENS

Cunningham Park (Union Tpk & 196th St)


Kids 7:30pm
KING LEAR 8pm

QUEENS

Voelker Orth Museum (149-19 38th Ave, Flushing)

Kids 7pm
ALLíS WELL 7:30pm

QUEENS

Gantry Plaza State Park (4-09 47th Rd)


Kids 7pm
KING LEAR 7:30pm

QUEENS

Socrates Sculpture Park (32-01 Vernon Blvd)

Kids, 4:30pm
ALLíS WELL 5pm

August 14
August 15
August 16
August 17
August 18
August 19

Rain Date

MANHATTAN

Harlem Meer (Central Park @ 110th St and Malcolm X Blvd)

Kids 6pm
ALLíS WELL 6:30pm

QUEENS

Crocheron Park (35th Ave & Corbett Rd)

Kids 7:30pm
KING LEAR 8pm

QUEENS

Voelker Orth Museum (149-19 38th Ave, Flushing)

Kids 7pm
KING LEAR 7:30pm

QUEENS

Gantry Plaza State Park (4-09 47th Rd)


Kids 7pm
ALLíS WELL 7:30pm

QUEENS

Socrates Sculpture Park (32-01 Vernon Blvd)

Kids, 4:30pm
KING LEAR 5pm

August 21
August 22
August 23
August 24
August 25
August 26

Rain Date

BROOKLYN

Bushwick Inlet Park (50 Kent Avenue )

Kids 7pm
KING LEAR 7:30pm

QUEENS

Cunningham Park (Union Tpk & 196th St)

Kids 7:30pm
ALLíS WELL 8pm

SOUTHAMPTON

Agawam Park (25 Pond Lane)




Kids 7pm
KING LEAR 7:30pm

SOUTHAMPTON

Agawam Park (25 Pond Lane)




Kids 7pm
ALLíS WELL 7:30pm

Rain Date
King Lear
The aging King Lear decides to divide his kingdom among his three daughters based on their love for him. Misunderstanding his youngest daughter's refusal to flatter him, he disowns her in favor of her ruthless, manipulative sisters...who promptly strip him of power, wealth, and sanity. Shakespeare's spectacular tragedy pits good against evil as the exiled princess returns to claim the throne.
Allís Well That Ends Well
Having restored the King's health with a miraculous potion, Helena requests Count Bertram's hand in marriage in return. But when the arrogant Bertram refuses to marry beneath his class and flees from both King and bride to the nearest war, Shakespeare's courageous heroine must stop at nothing to bring him home. Meanwhile, Bertram's friends hilariously unmask the swashbuckling braggart Parolles.
Kids & the Classics
This free interactive workshop is the companion piece to our program of Free Shakespeare in the Parks. It is offered 30 minutes before every performance, and it is designed for children ages 4 to 12. It gives children a chance to interact with the text by previewing the characters and situations, and creating links between the text and their own lives through theatre games and close reading of text.
---
Free Staged Reading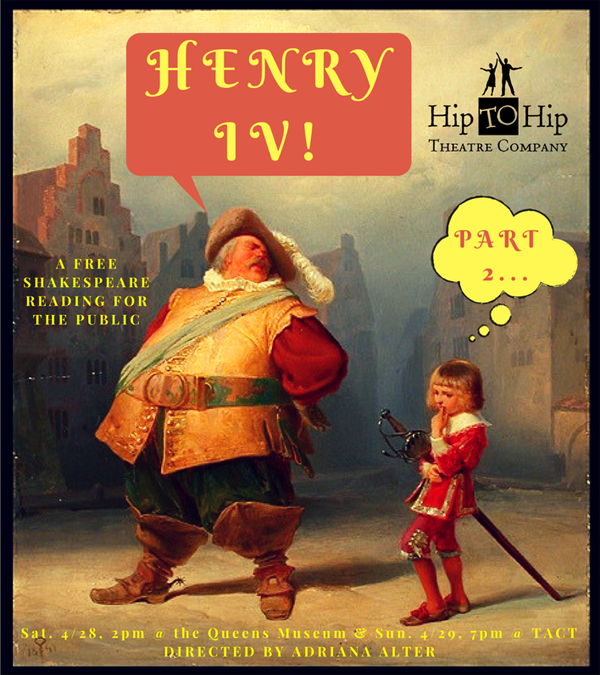 The king lies dying, haunted by guilt and still yearning to atone by going on pilgrimage to Jerusalem. Meanwhile, in the taverns of Eastcheap, the irrepressible reveler Falstaff schemes to use his influence over Prince Hal, the heir to the throne, to sell government offices. As a fresh wave of rebellion sweeps the kingdom, Hal must turn his back on his wild friends and get ready to assume the crown.
Saturday, April 28th at 2:00 pm
The Queens Museum, New York City Building
Flushing Meadows Corona Park, Queens, NY 11368
Sunday, April 29th at 7:00 pm
The Actors Company Theatre (TACT)
900 Broadway (Between 19th & 20th) , New York, NY 10003

All performances are free and open to the public.
Running time: 90 minutes.
Fun for the whole family.
Bring a blanket or low chair and picnic fare
and enjoy a Shakespeare play in the open air.