Free Shakespeare in the Parks
2022 PERFORMANCE SCHEDULE
Download the 2022 Performance Calendar
WEDNESDAY
THURSDAY
FRIDAY
SATURDAY
SUNDAY
July 27
July 28
July 29
July 30
July 31

QUEENS

Flushing Meadows (at the Unisphere)







Pericles 7:30pm

QUEENS

Cunningham Park (Union Tpk & 196th St)







Much Ado 7:30pm

QUEENS

Voelker Orth Museum (149-19 38th Ave, Flushing)





Pericles 7:30pm

STATEN ISLAND

Alice Austen Park
2 Hylan Blvd








Much Ado 5pm

BRONX

Bronx Music Heritage Center (Plaza, 438 E. 163rd St. at Washington Ave)

Pericles 5pm

August 3
August 4
August 5
August 6
August 7

QUEENS

Sunnyside Gardens Park (48-21 39th Ave)




Pericles 7:30pm

QUEENS

Crocheron Park (35th Ave & Corbett Rd)





Much Ado 7:30pm

BROOKLYN

Fort Greene Park Monument Steps







Pericles 7:30pm

QUEENS

Gantry Plaza State Park (4-09 47th Rd)





Pericles 7:30pm

QUEENS

Socrates Sculpture Park(32-01 Vernon Blvd)

Much Ado 5pm

August 10
August 11
August 12
August 13
August 14

JERSEY CITY

Newport Green (14th St & River Dr S.)





Much Ado 7pm

QUEENS

Crocheron Park (35th Ave & Corbett Rd)





Pericles 7:30pm

QUEENS

Voelker Orth Museum (149-19 38th Ave, Flushing)




Much Ado 7:30pm

QUEENS

Gantry Plaza State Park (4-09 47th Rd)





Much Ado 7:30pm

Rain Date for 8/10 Newport Green Performance of Much Ado 7pm

August 17
August 18
August 19
August 20
August 21

QUEENS

Sunnyside Gardens Park 48-21 39th Ave)




Much Ado 7:30pm

QUEENS

Cunningham Park (Union Tpk & 196th St)




Pericles 7:30pm

SOUTHAMPTON

Agawam Park (25 Pond Lane)





Pericles 7:30pm

SOUTHAMPTON

Agawam Park (25 Pond Lane)





Much Ado 7:30pm

Rain Date for 8/18 Cunningham Park Performance of Pericles 7:30pm
This program is made possible in part with public funds from the New York City Department of Cultural Affairs in partnership with the City Council.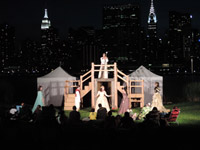 All performances are free and open to the public.
Running time: 90 minutes.
Fun for the whole family.
Bring a blanket or low chair and picnic fare
and enjoy a Shakespeare play in the open air.
THE VENUES